Garden Structures




Some of the most appealing
gardens rely less on plant
materials than on constructed
elements. Done well, this is
an artful integration of
hardscape & greenscape.
Structural components also serve
practical purposes: deterring
critters, managing slopes,
providing durable pathways,
framing views, or reducing
maintenance.










Hardscape
Garden
Elements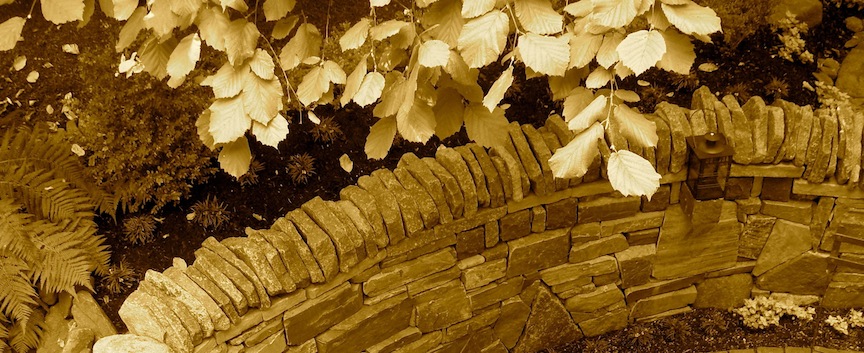 Kitchen Terrace Wall


This Idaho Ledgestone & Molalla dry-stack wall provides a stunning focal point
viewed from the kitchen window.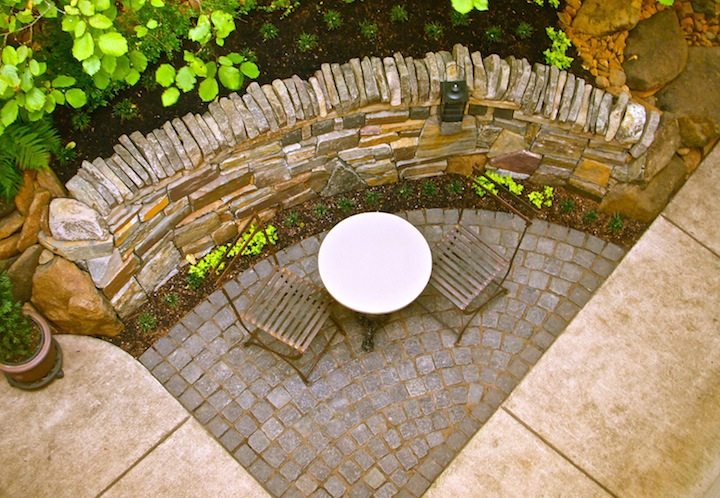 Kitchen Terrace Overview


Granite cobble pavers create a curving patio for cozy café seating. The narrow
planting strip between wall and paving visually softens the hardscape & also improves drainage.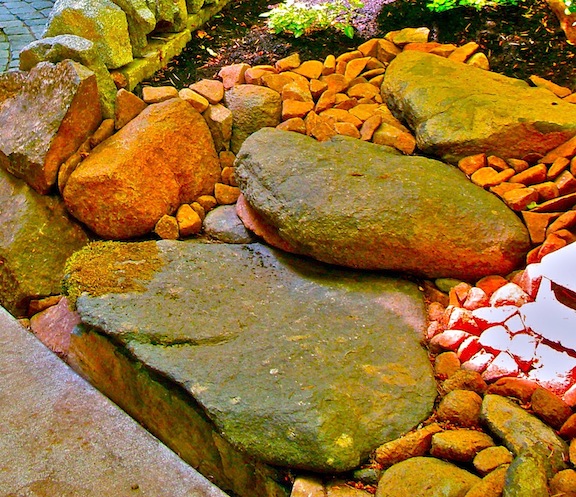 Kitchen Terrace Stair


Native boulders found on-site
make a sturdy & stunning stair.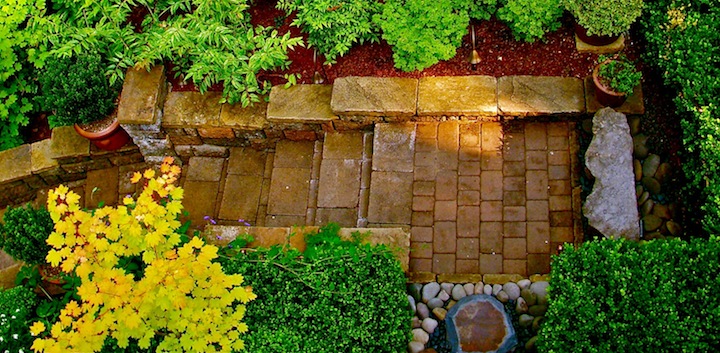 Stair Garden


The concrete masonry stair, wall, and pavers form a functional and slip-resistant pathway.
Adding sandstone wall caps improves the aesthetic of the humble concrete materials.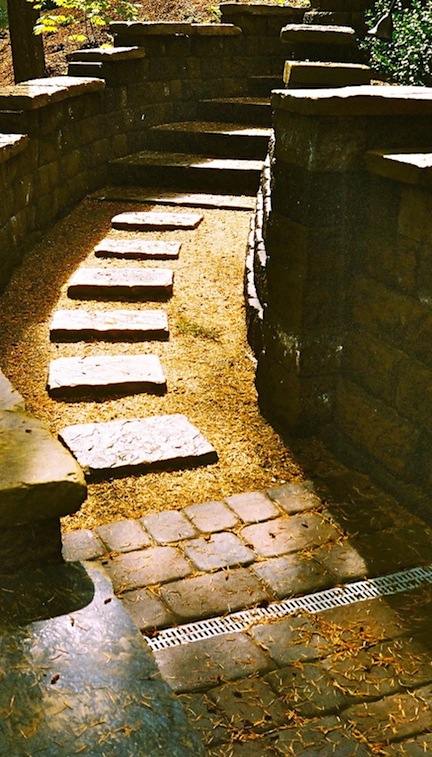 Stair Garden Path


Mahogany Sandstone stepstones match
the wall caps. Decomposed granite is
added for an easily maintained surface.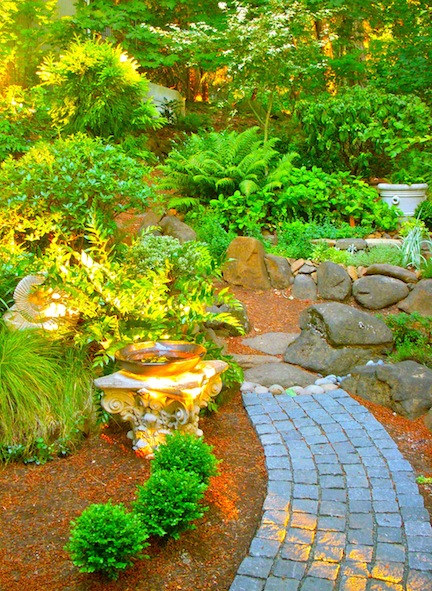 Cobble Path


This granite cobble path repeats a
theme of curving walkways, but also
attractively leads the eye out into the landscape.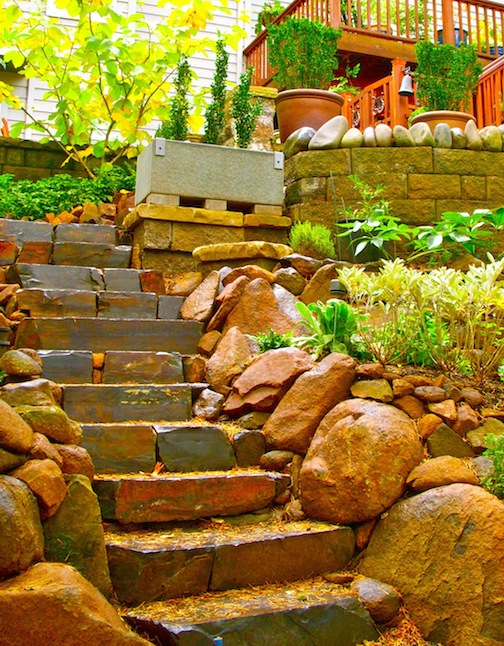 East Bank Stair


The colors of Montana Ironstone
& native basalt boulders pair well.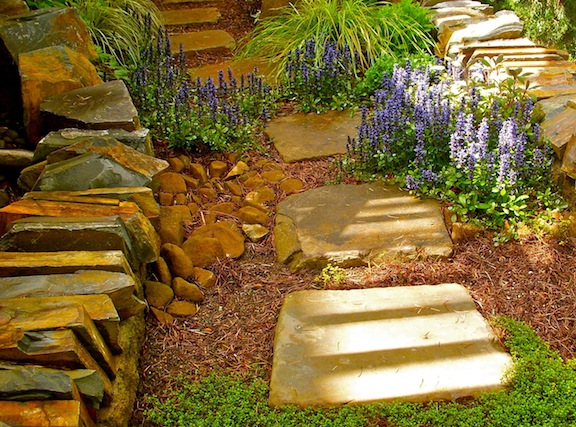 Garden Walk


Montana Ironstone is used here as a standing wall cap.
The rusty coloration repeats a theme seen throughout the garden.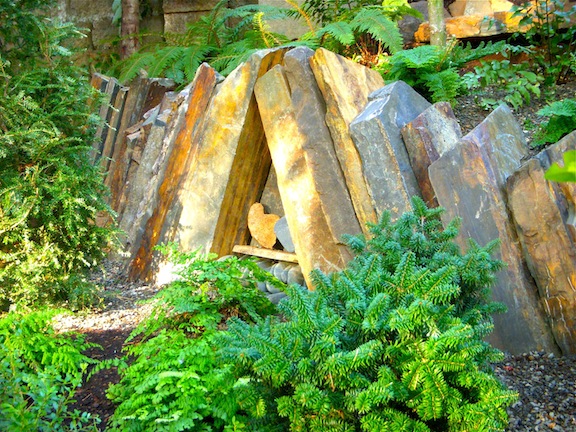 "Library" Wall


Vertically positioned, large slabs of Montana Ironstone
inventively become a wall reminiscent of books on a shelf.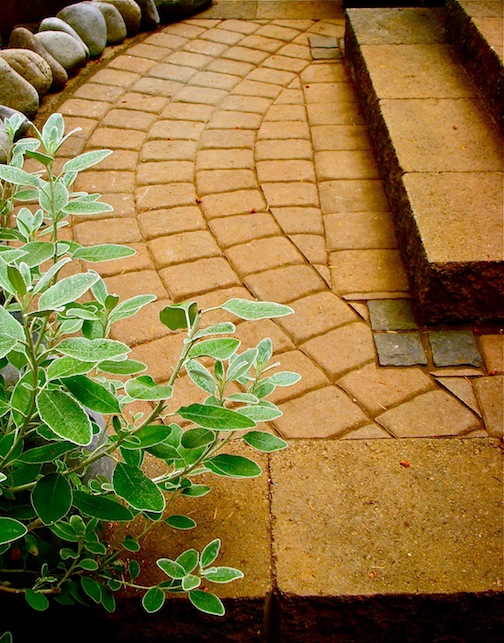 Stair Landing


Concrete masonry retaining
blocks & pavers are edged with river
rocks & accented with granite cobbles.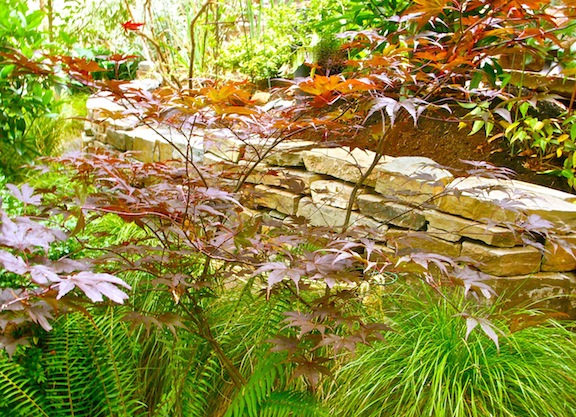 East Bank Stone Wall


This Idaho Ledgestone dry-stack wall makes a rustic
contrast to Japanese Maples, ferns, & fine-textured grasses.








Handcrafted
Garden
Elements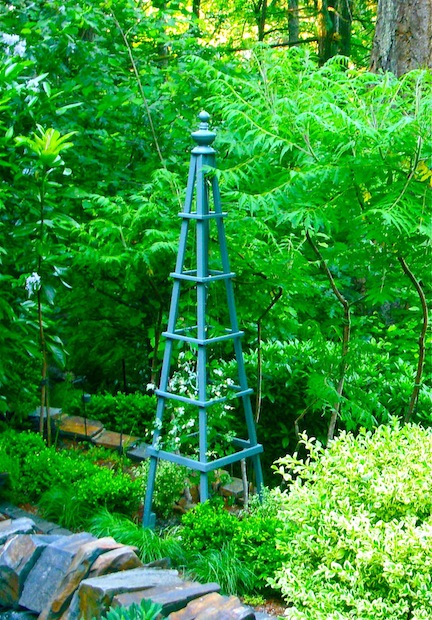 Tuteur


Tuteurs are the whimsical garden
equivilents of exclamation points
& act as a framework for climbing vines.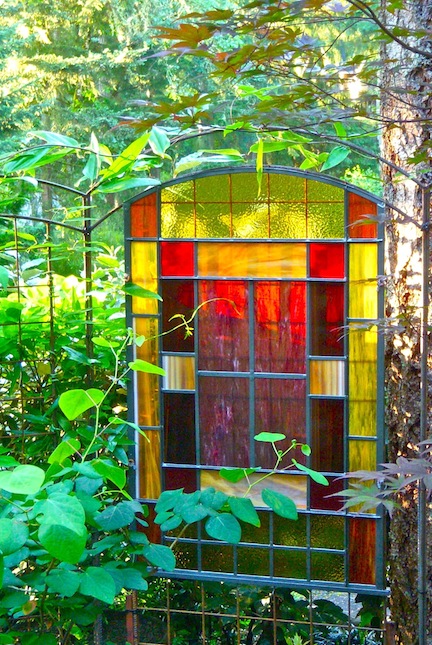 Light Screen


When screening undesirable
views, one option is to create a
beautiful focal point to draw your eye.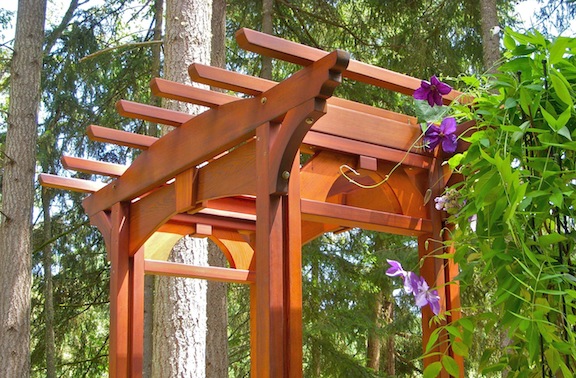 Stair Garden Arbor


"Vertical gardening" with trellises & arbors raises flowering vines—
here American Wisteria & 'Jackmanii' Clematis—out of the reach of hungry deer.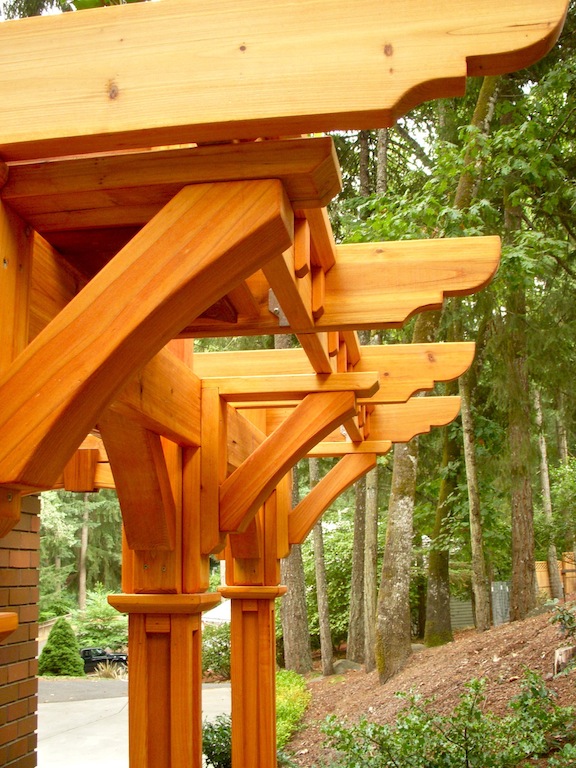 West Arbor


This ingenious arbor design
beautifully screens the utility entrance.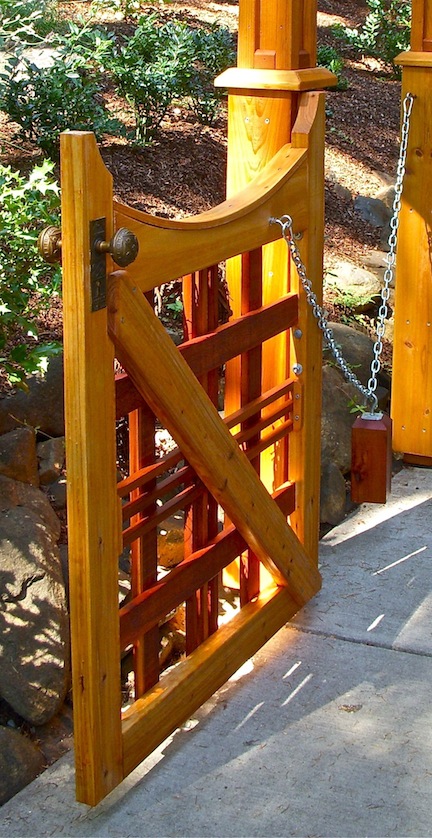 West Arbor Gate


Adding a gate clearly
demarcates public & private space.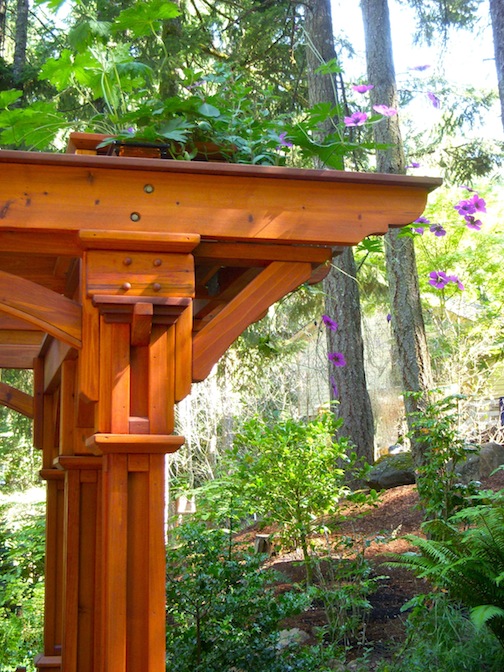 West Arbor Planter Box


A cedar planter box atop the arbor accommodates
the growing of Hardy Geraniums favored by local deer.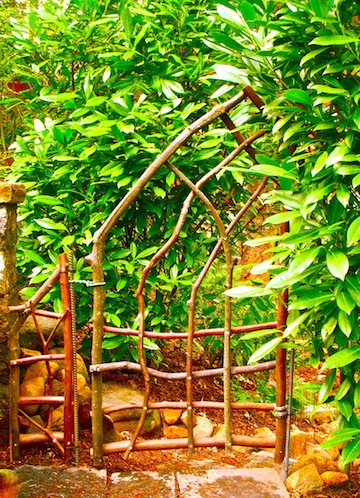 Twig Gate


Crafty recyclers can convert tree prunings into gates.
With a coating of exterior stain, these often last for years.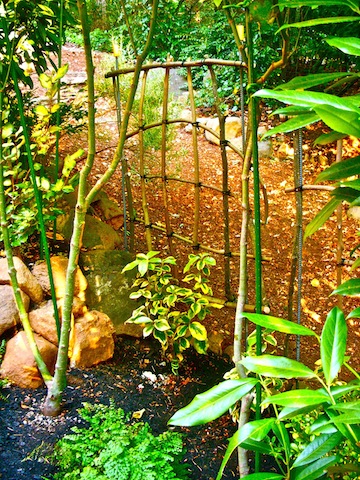 Twig Fence


Open twig panels slow the movement
of hungry deer without blocking views.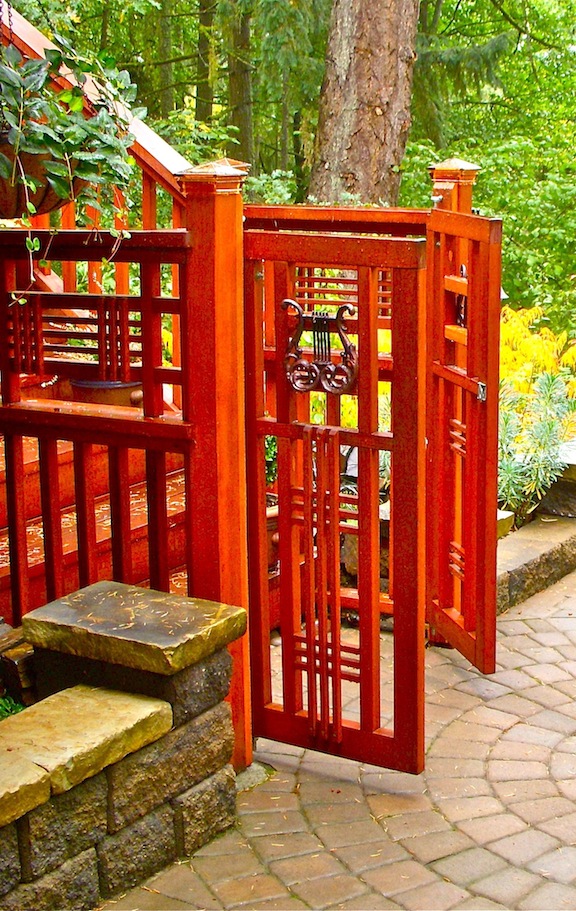 Fountain Terrace Gates


Repurposed musical lyres decorate these
gates in the spirit of Green Music Garden.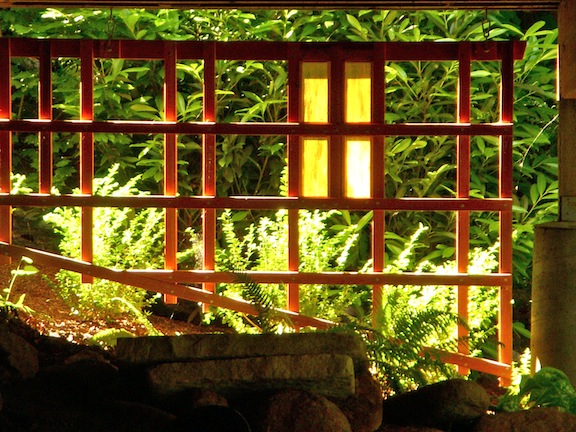 Creation Garden Trellis


Yet another attempt to attractively
discourage the movement of deer . . .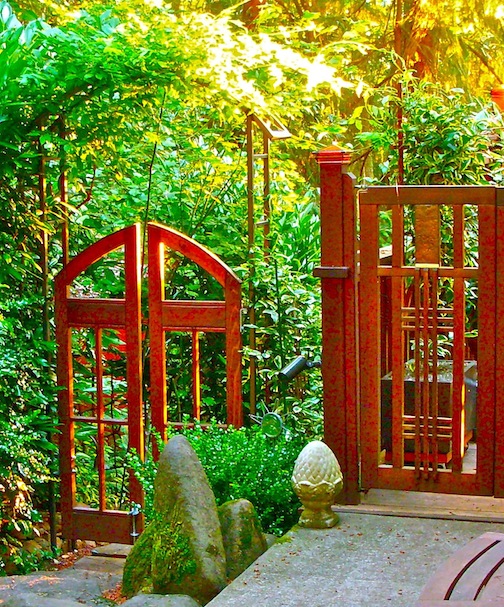 North Gates


Similar wood tones help relate
the dissimilar styles of these gates.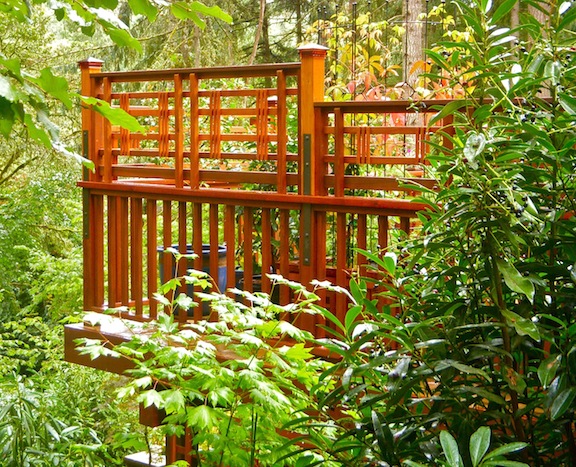 Deck Trellis


Trellises added selectively above this deck rail
provide filtered screening only where it is needed.