Plant
Combinations




Green Music Garden is named
because of this designer's notion
that garden-making is a lot like
musical composition. Multiple
"performers" must collaborate
to achieve a beautiful outdoor
space. "Composing" with flower
color, bloom time, leaf color
& texture, shape, size, etc.—
these are the plant instruments
of the garden designer. Producing
pleasing plant combinations is
like soloing on the world's most
playful instrument.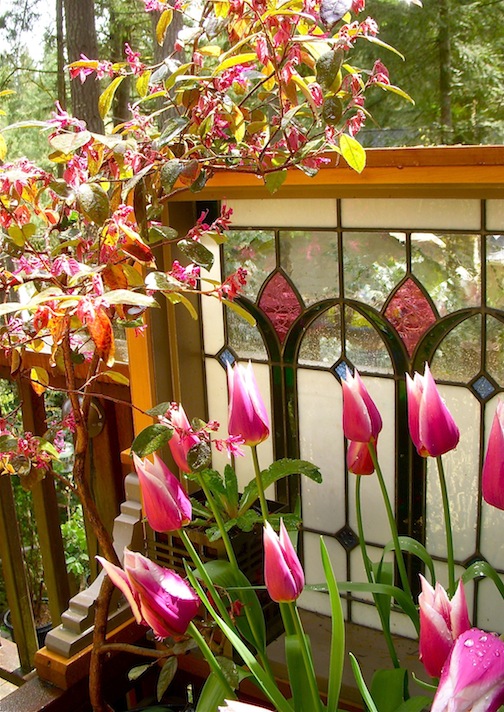 Stained Glass & Tulips


Pink flowering Lorapetalum randomly flowers
"in concert" with 'Claudia' Tulips, coordinating
with a repurposed stained glass backdrop.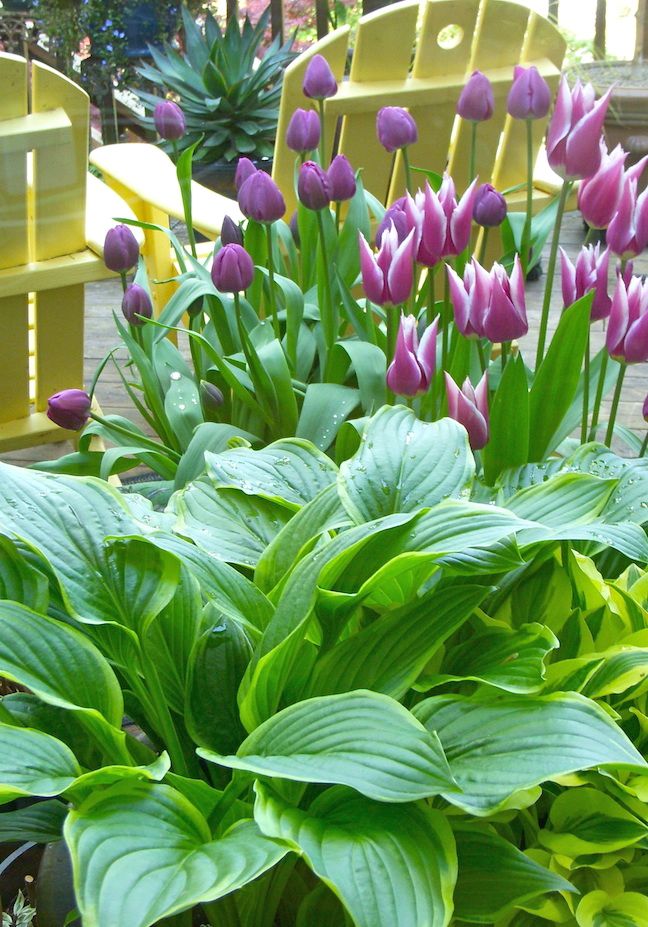 Hostas & Tulips


Chairs & variegated Hosta
are a yellow "theme-and-variation,"
but pink & purple Tulips are the spring divas.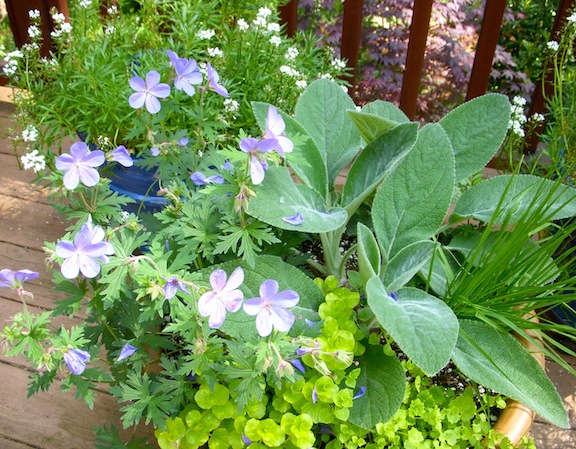 Deck Planter


Cool colored and fuzzy 'Big Ears' Lamb's Ear
is a textural counterpoint to golden-leaf Campanula
'Dixon Gold' & Lysimachia 'Aurea,' Geranium, & Alyssum.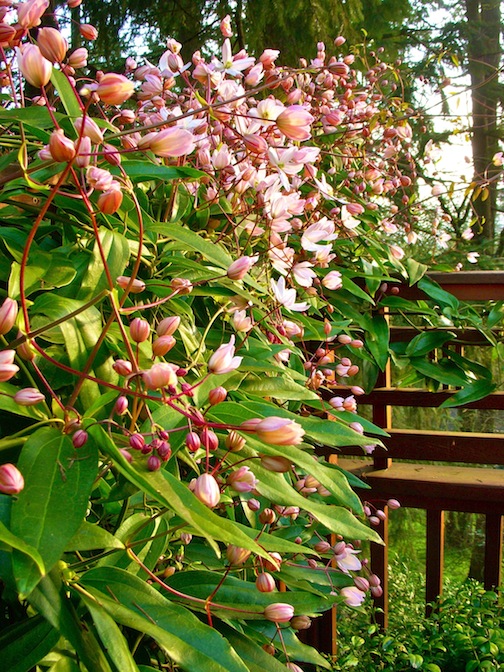 Deck Trellis


Nothing says "Rite of Spring"
like a riot of Clematis 'Apple Blossom'
set off by a background of dark evergreens.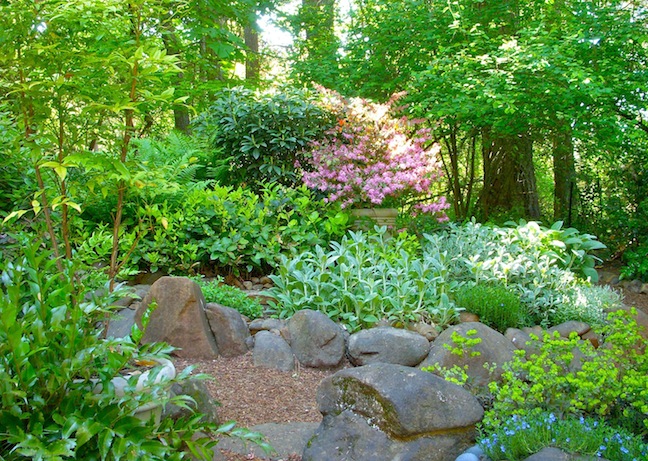 Rock Garden


Mounding shapes play "in tune," held together through repetition
of cool-green-fuzzy & warm-green-glossy textures. Pink flowering
Lorapetalum (center) and blue Lithodora (bottom right) add interest.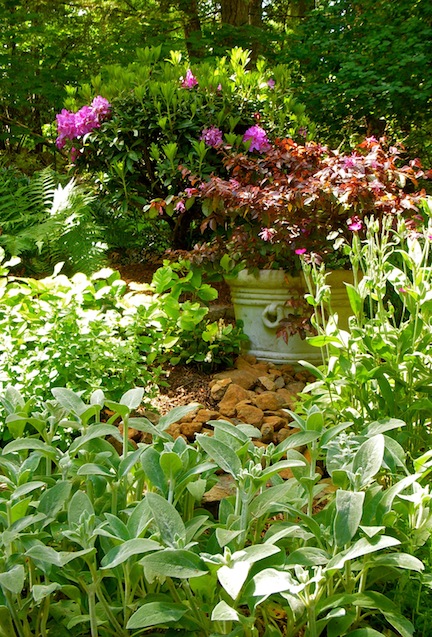 Rock Garden Detail


Next up to "solo"
in the spotlight is the deep
pink Rhododendron 'Anah Kruschke.'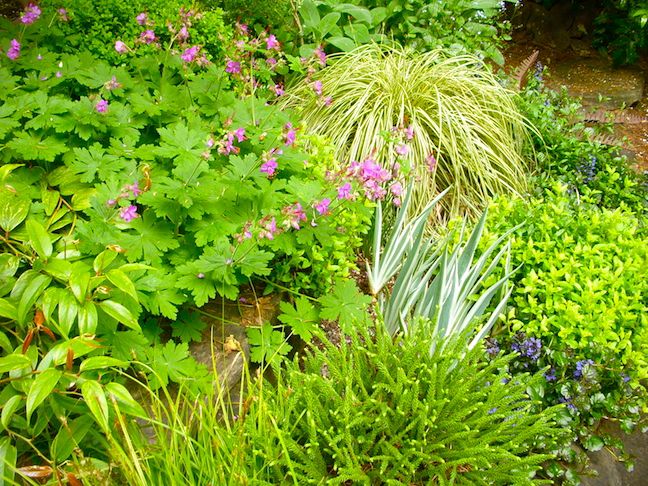 Rock Garden


Later in May, these "accompanists" join in: pink Scented Geranium, purple flowering
Ajuga 'Black Scallop,' and white-variegated Iris. The Carex 'Evergold' (above), Golden
Oregano (right), Cryptomeria 'Little Diamond' (bottom), & Leucothoe 'Rainbow' (left) are evergreen.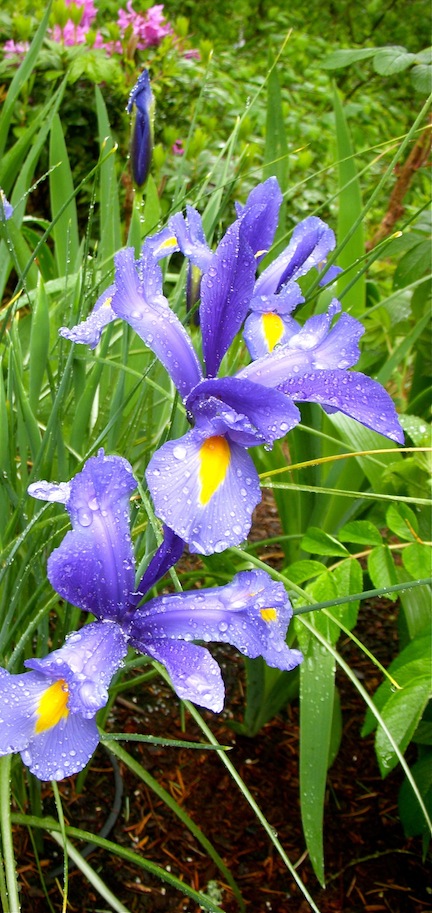 Rock Garden Iris


Pink & purple flowers
blooming at the same moment
perform a color "symphony."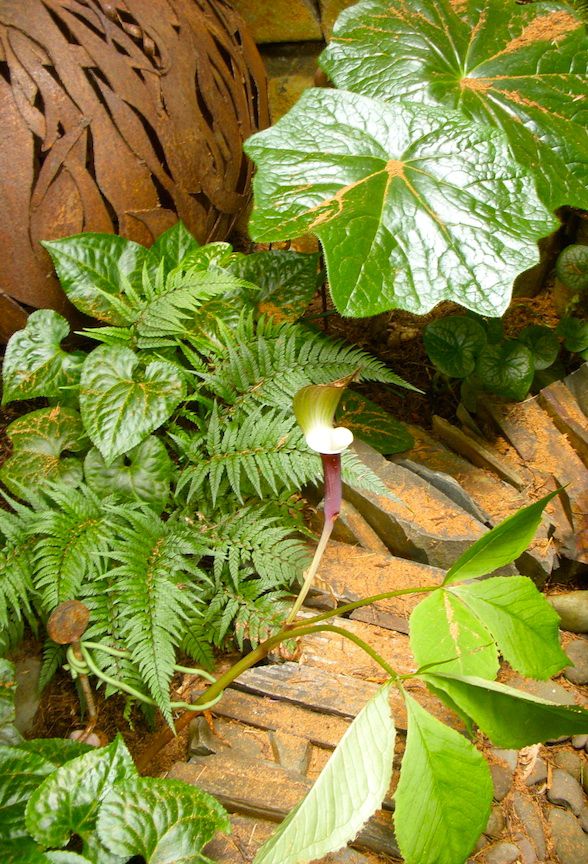 Creation Garden


The "orchestra pit" of the Creation Garden
is where only tough shade-tolerant plants
thrive: Podophyllum, Beesia, Asarum, & Arisaema.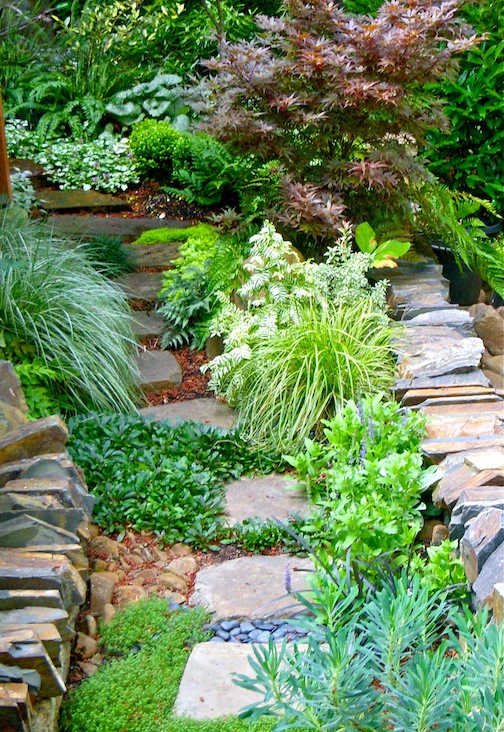 Garden Walk


Blending swaths of blue-green &
yellow-green evergreens is the
"key" to this garden's year-round appeal.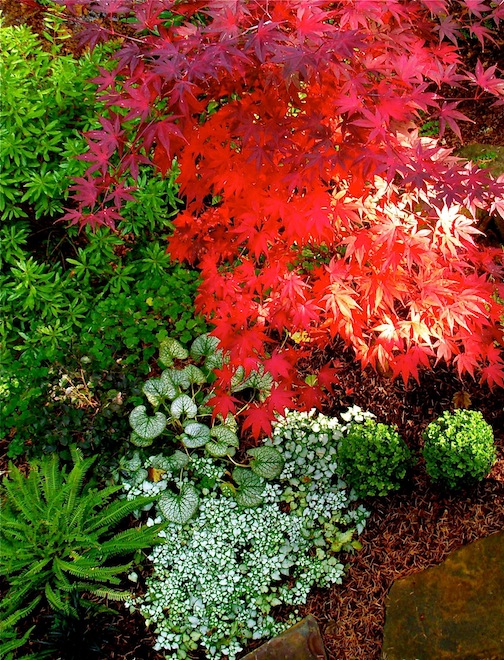 Garden Walk Fall Color


The 'Bloodgood' Japanese Maple
creates an ephemeral autumn "masterpiece," a trio
with Lamium 'Silver Beacon' & Brunnera 'Jack Frost.'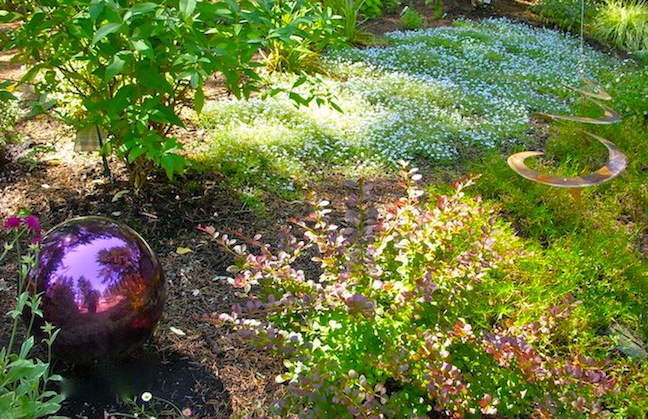 "Serendipity" Welcome Garden


Think of this reflective sphere as the garden "soloist."
If you cover it with your hand, you will realize how important a focal point can be.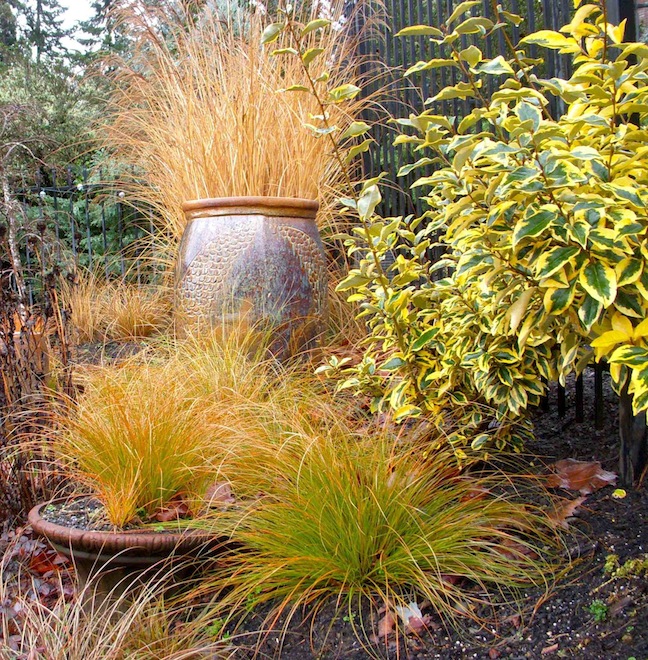 "Taming a Slope" Welcome Garden


Winter can be dreary enough without a lack of
year-round foliage. Instead of a January "dirge," these
colorful grasses & evergreens give a noteworthy performance.